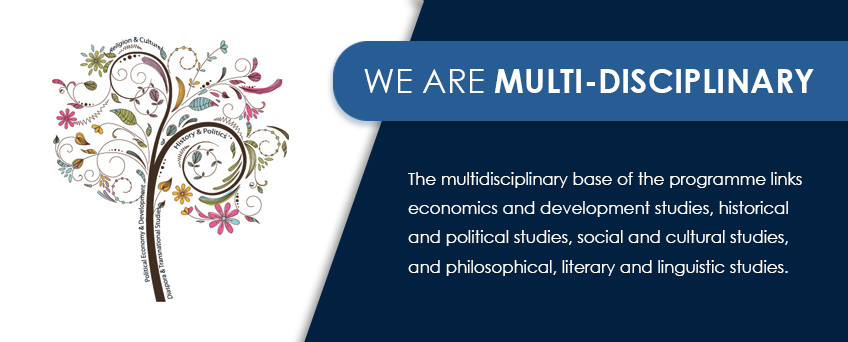 SASP welcomes all students with good results at GCE 'A' Levels (including General Paper) who have an interest in South Asia. No prior knowledge of the region or knowledge of any South Asian language is required.
We offer the following flexible curriculum options which enable students to immerse themselves in the academic study of South Asia:
Single major [B.A. or B.A. (Hons.)] in South Asian Studies
Students majoring in South Asia will study the first year exposure module - South Asia: People, Culture, Development alongside a range of level-2000 and level-3000 modules offered by SASP or recognised modules from other departments. For Honours, students will be required to undertake an Honours Thesis/Project component. Such an intensive and well-rounded curriculum will equip students with specialised knowledge of this important region of Asia.
Second major in South Asian Studies
This option allows students to establish credentials in more than one discipline or area of study. Such a combination would be especially helpful to students who wish to develop strengths and credentials in both a discipline and an area study such as South Asia. This will enable students to complete their undergraduate degree from NUS with a discipline-based subject (e.g. Geography, History or Economics) but with a second major in South Asian Studies, equipping them to address employers' preference for disciplinary training coupled with expertise and knowledge about a dynamic part of Asia.
Students have the option to undertake India Studies as a minor. The minor can be undertaken alongside a major in any disciplinary area. To attain the minor in India Studies, students will be required to have 24MCs (about 6 modules) of SN or SN-recognised modules from the list below, including the exposure module at level-1000.
* Language modules are optional.
These modules offered by the Centre for Language Studies are for students with no background in Tamil or Hindi. Language modules, however, are not compulsory for fulfilling the requirements for the Minor in India Studies. Language modules will normally be on only ONE language track, i.e. either Hindi OR Tamil.
The minor in Asian Studies is a multidisciplinary minor jointly offered by the Department of Chinese Studies, Department of Japanese Studies, Department of Malay Studies, Department of Southeast Asian Studies and South Asian Studies Programme. To attain the minor in Asian Studies, students will be required to pass a minimum of 24 MCs of modules from a list of recognised modules, including AA1201 Asian Challenges and Interconnections. For more details on the minor requirements, please click here.