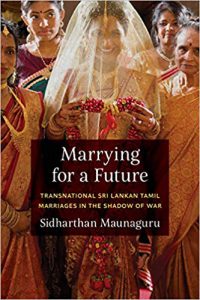 MARRYING FOR A FUTURE: TRANSNATIONAL SRI LANKAN TAMIL MARRIAGES IN THE SHADOW OF WAR
Sidharthan Maunaguru, University of Washington Press, 2019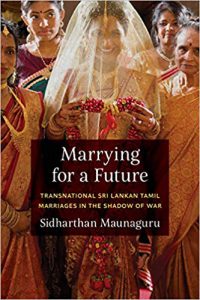 The civil war between the Sri Lankan state and Tamil militants, which ended in 2009, lasted more than three decades and led to mass migration, mainly to India, Canada, England, and continental Europe. In Marrying for a Future, Sidharthan Maunaguru argues that the social institution of marriage has emerged as a critical means of building alliances between dispersed segments of Tamil communities, allowing scattered groups to reunite across national borders. Maunaguru explores how these fragmented communities were rekindled by connections fostered by key participants in and elements of the marriage process, such as wedding photographers, marriage brokers, legal documents, and transit places.
Marrying for a Future contributes to transnational and diaspora marriage studies by looking at the temporary spaces through which migrants and refugees travel in addition to their home and host countries. It provides a new conceptual framework for studies on kinship and marriage and addresses a community that has been separated across borders as a result of war.
A REPUBLIC IN THE MAKING, INDIA IN THE 1950s
Gyanesh Kudaisya, Oxford University Press, 2017
This work takes a critical look at India in the 1950s, a momentous decade in its contemporary history. It looks at the colossal challenges which India faced in its years after Independence and conveys a sense of the hopes and aspirations, dilemmas and anxieties of its political leadership. It considers the key ideas, paths, and trajectories which were articulated in these years and have left an enduring imprint upon the Republic's fabric as we know it today. The values and personalities from that decade continue to remain a frame of reference, a benchmark for public life in present-day India.
The narrative on the 1950s is woven around certain key themes: the manner in which India moved away from conditions of disorder and turmoil to deal with the 'unfinished business' of Partition; the cartographic reconstruction of India as a political space; the uncertain journey of its democratic institutions; the crafting of inclusive citizenship amidst the ambiguities and anxieties surrounding the minorities; and finally, the audacious project of economic self-reliance through development planning and land reforms.
Presented as a broad-brush canvas, rather than a micro-history of the 1950s, this work offers insights into how India came to be transformed in critical ways to anchor itself as a resilient, democratic polity, increasingly coming to terms with societal diversity and heterogeneity. It shall be useful to those interested in unraveling the trails and tracks of India's exciting journey in its formative decade as a new nation.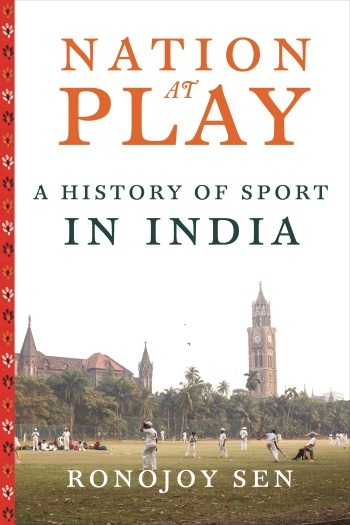 NATION AT PLAY: A HISTORY OF SPORT IN INDIA
Ronojoy Sen, Columbia University Press, 2015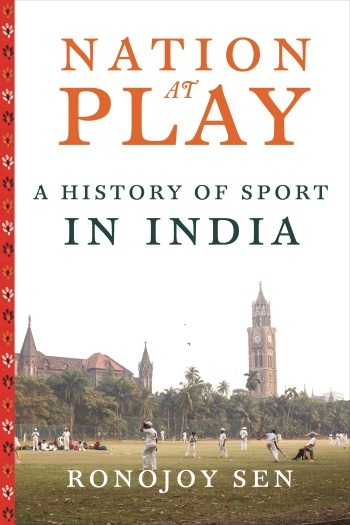 Reaching as far back as ancient times, Ronojoy Sen pairs a novel history of India's engagement with sport and a probing analysis of its cultural and political development under monarchy and colonialism, and as an independent nation. Some sports that originated in India have fallen out of favor, while others, such as cricket, have been adopted and made wholly India's own. Sen's innovative project casts sport less as a natural expression of human competition than as an instructive practice reflecting a unique play with power, morality, aesthetics, identity, and money.
Sen follows the transformation of sport from an elite, kingly pastime to a national obsession tied to colonialism, nationalism, and free market liberalization. He pays special attention to two modern phenomena: the dominance of cricket in the Indian consciousness and the chronic failure of a billion-strong nation to compete successfully in international sporting competitions, such as the Olympics. Innovatively incorporating examples from popular media and other unconventional sources, Sen not only captures the political nature of sport in India but also reveals the patterns of patronage, clientage, and institutionalization that have bound this diverse nation together for centuries.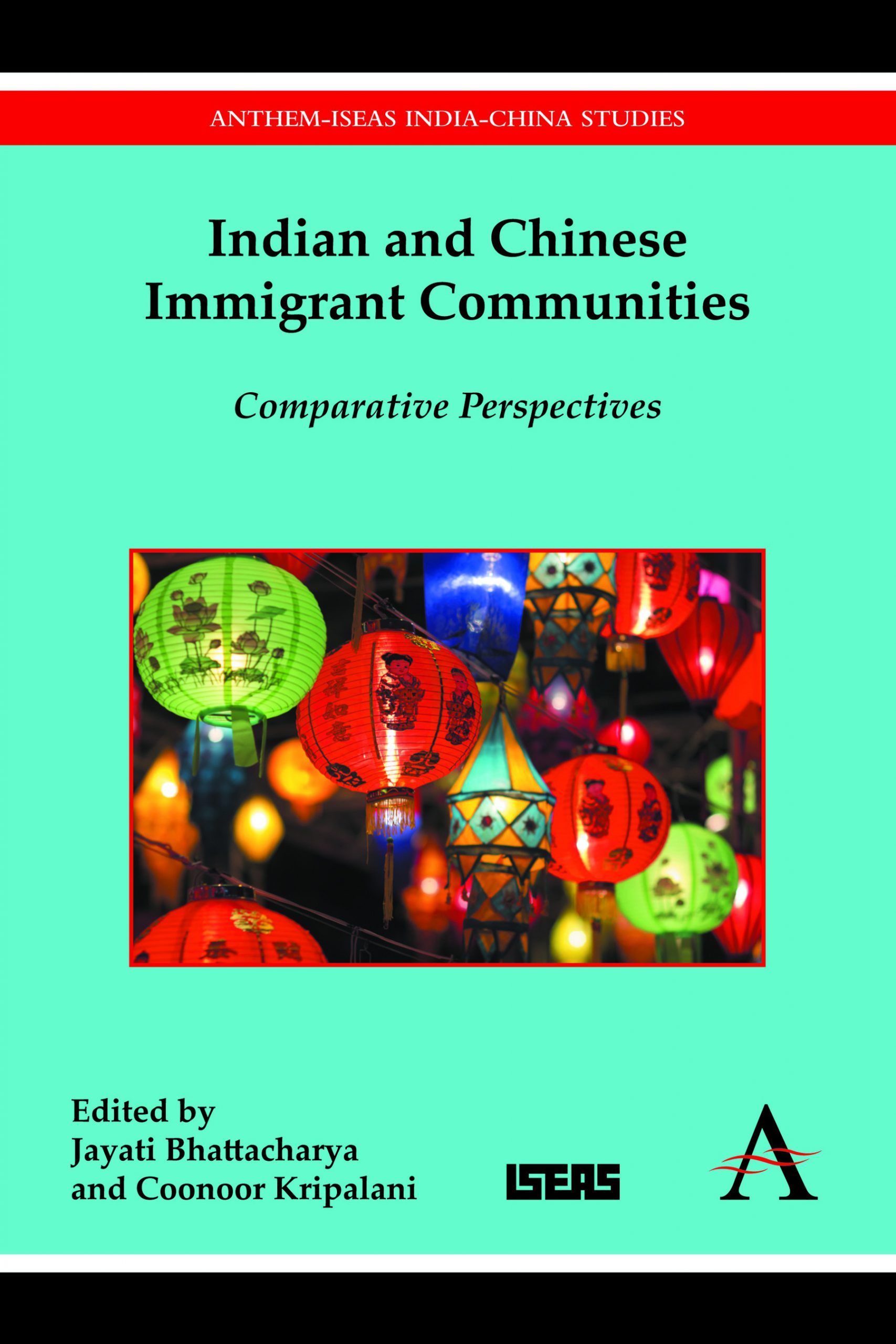 INDIAN AND CHINESE IMMIGRANT COMMUNITIES: COMPARATIVE PERSPECTIVES
Edited by Jayati Bhattacharya and Coonoor Kripalani, Anthem-ISEAS, 2015
This interdisciplinary collection of essays offers a window onto the overseas Indian and Chinese communities in Asia. Contributors discuss the interactive role of the cultural and religious 'other', the diasporic absorption of local beliefs and customs, and the practical business networks and operational mechanisms unique to these communities. Growing out of an international workshop organized by the Institute of Southeast Asian Studies in Singapore and the Centre of Asian Studies at the University of Hong Kong, this volume explores material, cultural and imaginative features of the immigrant communities and brings together these two important communities within a comparative framework.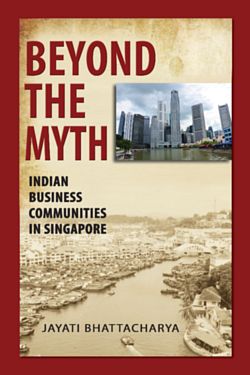 BEYOND THE MYTH
Jayati Bhattacharya, ISEAS, 2011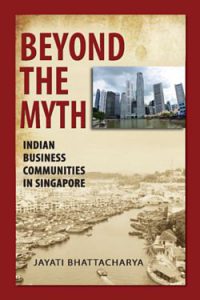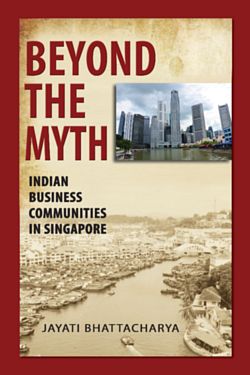 This book is a macro-study of Indian business communities in Singapore through different phases of their growth since colonial times. It goes beyond the conventional labour-history approach to study Indian immigrants to Southeast Asia, both in terms of themselves and their connections with the peoples' movements. It looks at how Indian business communities negotiated with others in the environments in which they found themselves and adapted to them in novel ways. It especially brings into focus the patterns and integration of the Indian networks in the large-scale transnational flows of capital, one of the least-studied aspects of the diaspora history in this part of the world. The complexities and overlapping interests of different groups of traders and businessmen form an interesting study of various aspects of these trading bodies, their methods of operation and their trade links, both within and outside Singapore. The book also charts their mobility and progress, in terms of both business and social status. The research aims to construct linear threads of linkages through generations and situate them in the larger framework and broader paradigms of business networks in Singapore.
In shedding light on aspects of Indian connectivities to Southeast Asia, the narrative is particularly relevant in the context of India's economic rise. This study raises economic, social and cultural issues regarding the transition.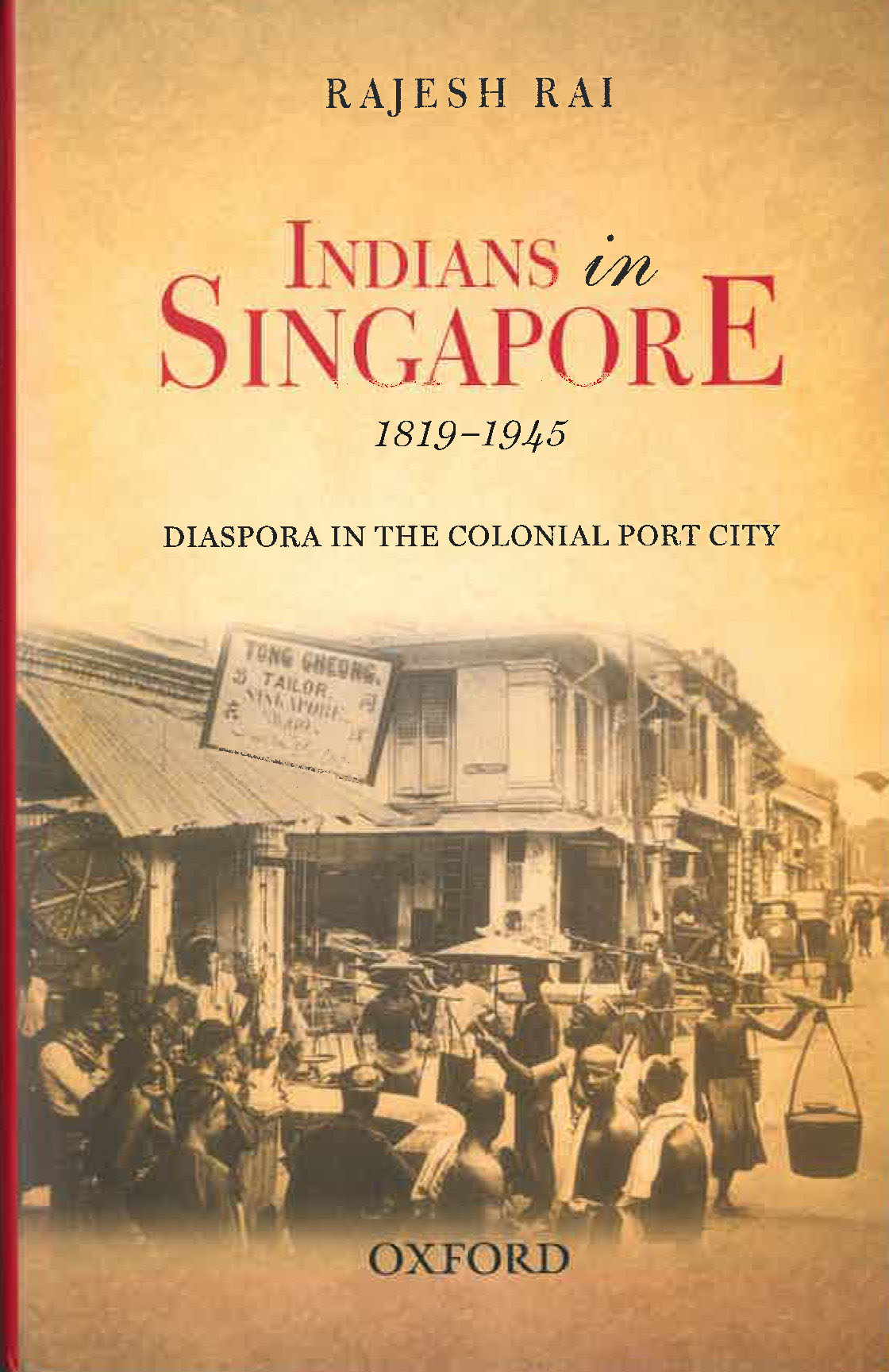 INDIANS IN SINGAPORE 1819-1945
Rajesh Rai, Oxford University Press India, 2014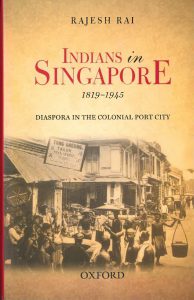 Indians in Singapore, 1819 -1945 is the first comprehensive study of the Indian diaspora in colonial Singapore. Drawing on administrative archives, intelligence reports, observer accounts, newspapers, oral testimonies, and community-based records, the book provides a meticulous historical account of the formation of the diaspora in the colonial port-city, and its socio-political, religious and cultural development from the advent of British colonial rule to the end of the Japanese occupation. Indians in Singapore examines how the conditions of living as a minority in a multi-ethnic port-city; changes in colonial ideologies, administration and economy; developments in information-communication technologies; and transnational religious and socio-political currents in the late 19th and early 20th centuries, shaped Indian identity formations. What emerges is a fascinating account of how these Indian emigrants, by virtue of their unique vantage point in a frontier settlement that transformed into a metropolis of global significance, negotiated their position vis-à-vis the powers at hand and external processes in motion. In doing so, it reveals the distinct and complex nature of the historical journey of Indian migrants in the urban landscape of the colonial port-city – an aspect of diaspora studies that has received little attention in erstwhile scholarship.
RELIGION AND IDENTITY IN THE SOUTH ASIAN DIASPORA
Edited by Rajesh Rai and Chitra Sankaran, Routledge, 2013
Religious identity constitutes a key element in the formation, development and sustenance of South Asian diasporic communities. Through studies of South Asian communities situated in multiple locales, this book explores the role of religious identity in the social and political organization of the diaspora. It accounts for the factors that underlie the modification of ritual practice in the process of resettlement, and considers how multicultural policies in the adopted state, trans-generational changes and the proliferation of transnational media has impacted the development of these identities in the diaspora. Also crucial is the gender dimension, in terms of how religion and caste affect women's roles in the South Asian diaspora. What emerges then from the way separate communities in the diaspora negotiate religion are diverse patterns that are strategic and contingent. Yet, paradoxically, the dynamic and evolving relationship between religion and diaspora becomes necessary, even imperative, for sustaining a cohesive collective identity in these communities.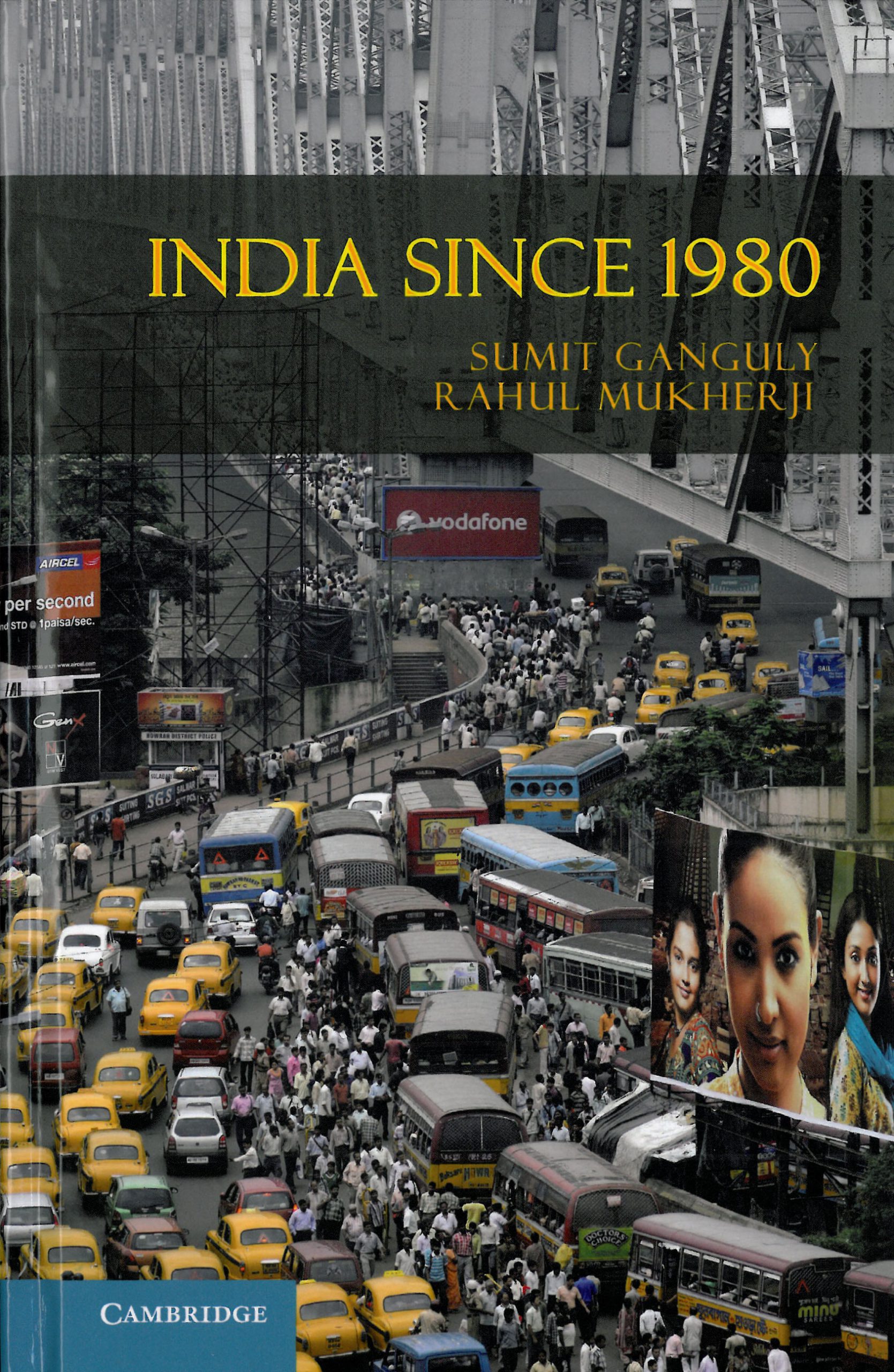 INDIA SINCE 1980
Sumit Ganguly and Rahul Mukherji, Cambridge University Press, 2011
This book considers the remarkable transformations that have taken place in India since 1980, a period that began with the assassination of the formidable Prime Minister Indira Gandhi. Her death, and that of her son Rajiv seven years later, marked the end of the Nehru-Gandhi era. Although the country remains one of the few democracies in the developing world, many of the policies instigated by these earlier regimes have been swept away to make room for dramatic alterations in the political, economic and social landscape. Sumit Ganguly and Rahul Mukherji, two leading political scientists of South Asia, chart these developments with particular reference to social and political mobilization, the rise of the BJP and its challenge to Nehruvian secularism and the changes to foreign policy that, in combination with its meteoric economic development, have ensured India a significant place on the world stage.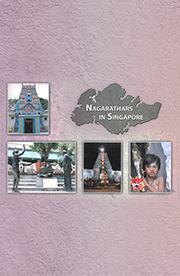 NAGARATHARS IN SINGAPORE
Thinnappan, S. P and Soundara Nayaki Vairavan, Singapore: 2010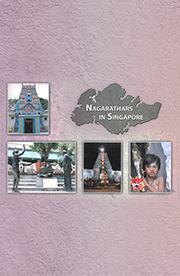 Nagarathars or Chettiars from Chettinadu, Tamilnadu, have been part of Singapore life and commerce since the 1820s. This book shows how the community's traditional and successful occupation of moneylending was integral to Singapore's development. Their life was centred on warehouse/lodging centres or kittangis until Chettiar women started settling in Singapore in the 1920s and 1930s. A wider range of occupations was then taken up by the Chettiar men, and later women. Many full colour illustrations show Singapore's Chettiar Hindu temples, costumes, and ceremonies. Archival records and photographs illuminate the community's history. Short biographies of Chettiars eminent in public service, the professions and the arts show how their contribution to Singapore life extends far beyond the world of finance. With bibliography.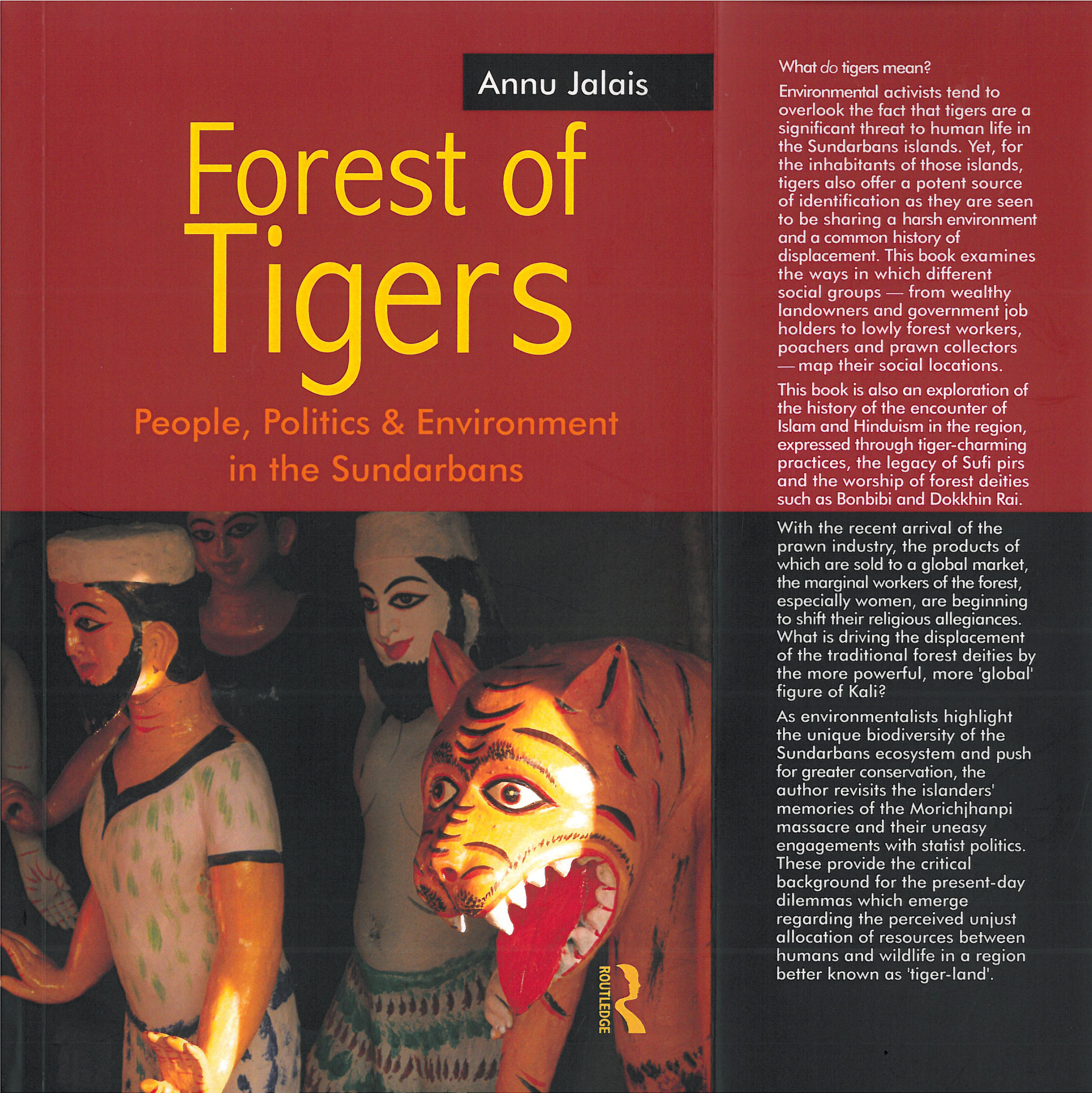 FOREST OF TIGERS: PEOPLE, POLITICS AND ENVIRONMENT IN THE SUNDARBANS
Annu Jalais, Routledge India, 2009
Acclaimed for its unique ecosystem and Royal Bengal tigers, the mangrove islands that comprise the Sundarbans area of the Bengal delta are the setting for this pioneering anthropological work. The key question that the author explores is: what do tigers mean for the islanders of the Sundarbans? The diverse origins and current occupations of the local population produce different answers to this question – but for all, 'the tiger question' is a significant social marker. Far more than through caste, tribe or religion, the Sundarbans islanders articulate their social locations and interactions by reference to the non-human world – the forest and its terrifying protagonist, the man-eating tiger. The book combines rich ethnography on a little-known region with contemporary theoretical insights to provide a new frame of reference to understand social relations in the Indian subcontinent. It will be of interest to scholars and students of anthropology, sociology, development studies, religion and cultural studies, as well as those working on environment, conservation, the state and issues relating to discrimination and marginality.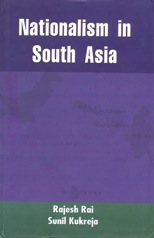 NATIONALISM IN SOUTH ASIA
Rajesh Rai and Sunil Kukreja (eds.), New Delhi/Kuala Lumpur: Ashwin-Anoka Press, 2009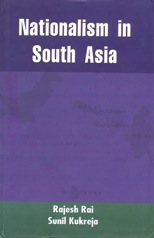 In a region that accounts for nearly one-quarter of the world's population, South Asia is a mosaic of ethnic and religious communities. In spite of nation-building efforts, the recent history of erstwhile states in the region has shown their continued vulnerability to challenges from ethnic and religious nationalist movements. The essays in this volume study the key elements of the ideology and programme of specific nationalist movements in India, Pakistan, Bangladesh, Sri Lanka and Iran, and the political and socio-economic forces that have influenced their development. Collectively they endeavour to provide, an account of why nationalism remains the single most critical factor shaping political developments in South Asia.
NEW "TEMPLES" OF INDIA: SINGAPORE AND INDIA COLLABORATION IN INFORMATION TECHNOLOGY PARKS
Faizal bin Yahya, Leiden & Boston: Brill, 2008
After 1991, India after decades of stifling its own economic growth, has reformed its economy and has implemented its Look East policy to enhance its economic, business and trade linkages with East Asian economies. At the same time, Singapore has reached its own domestic limits to economic growth and is encouraging its companies to invest overseas to create its "external economic wing". Collaboration in information technology (IT) formed the key to initiating economic cooperation between Singapore and India. India has excellent IT talent but inadequate infrastructure to tap this talent for economic growth while Singapore has excelled in building high technology parks. The resulting collaboration is Singapore's flagship investment, the IT Park in Bangalore, India.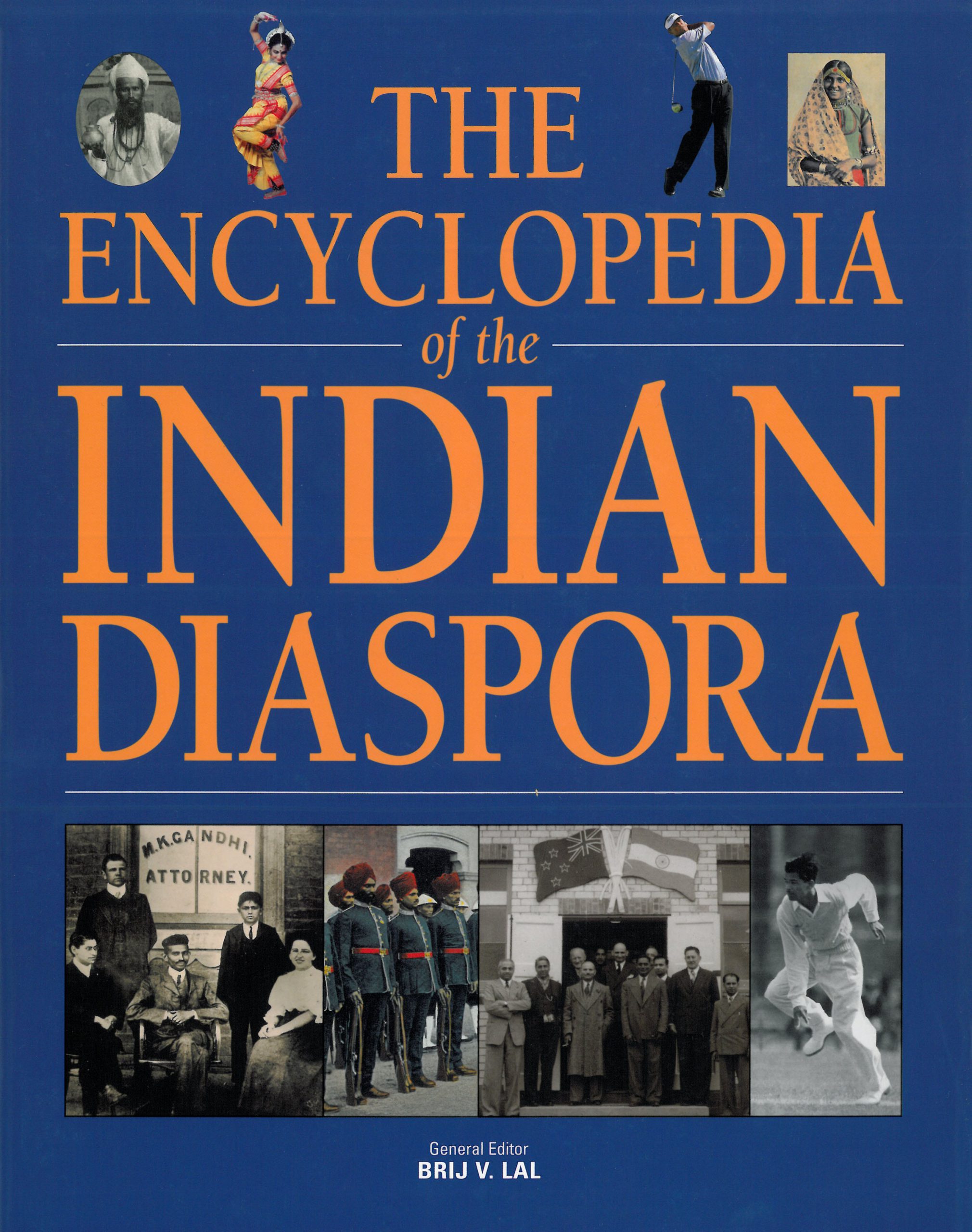 THE ENCYCLOPEDIA OF THE INDIAN DIASPORA
Brij V. Lal, Peter Reeves and Rajesh Rai (eds.), Singapore: Editions Didier Millet, 2007. (Republished in French by Les Editions Du Pacifique, 2008).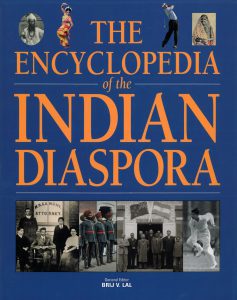 The Encyclopedia of the Indian Diaspora is the first comprehensive survey of Indian communities around the world. Over 30 contextual features show the initiatives taken by these communities and the contributions they have made both internationally and to their host societies, in areas as diverse as literature, cuisine, popular culture, sports and political life. The greater part of the book consists of 44 country/region profiles covering all parts of the world. Written by over 60 scholars from across the globe, most of whom are from the Diaspora, the encyclopedia provides insights into the experiences of a people about whom much is often assumed but little is actually known.
The recent expansion of the Indian Diaspora, now some 20-million strong and growing, is a social transformation of global significance. Many members of the Diaspora have reached the highest levels of global commerce and trade, international public services and diplomacy, the professions and academia. In addition, the creative literature from and about the Diaspora holds a distinctive and distinguished place in the world's literary imagination.
Written in an accessible style and illustrated with hundreds of photographs, documents and maps, The Encyclopedia of the Indian Diaspora is at once a work of profound scholarship as well as a reference work which will appeal to both members of the Diaspora as they seek to locate their place in a rapidly globalising world, and to those who wish to understand a major development in recent world history.
THE SOUTH ASIAN DIASPORA: TRANSNATIONAL NETWORKS AND CHANGING IDENTITIES
Rajesh Rai and Peter Reeves, London: Routledge, 2008 (Series: Routledge Contemporary South Asia Series)
The South Asian Diaspora numbers just under 30 million people worldwide, and it is recognized as the most widely dispersed diaspora. It is, moreover, one which of late has seen phenomenal growth, both due to natural increase and the result of a continued movement of professionals and labourers in the late 20th and early 21st century from the subcontinent to countries such as the United States, the United Kingdom, Canada, Australia and Singapore.
This book uses the concept of transnational networks as a means to understand the South Asian diaspora. Taking into account diverse aspects of formation and development, the concept breaks down the artificial boundaries that have been dominating the literature between the 'old' and the 'new' era of migration. Thereby the continued connectedness of most historic South Asian settlements is shown, and the fluid nature of South Asian identities is explored.
Offering a unique and original insight into the South Asian diaspora, this book will be of interest to academics working in the field of South Asian Studies, Diaspora and Cultural Studies, Anthropology, Transnationalism and Globalisation.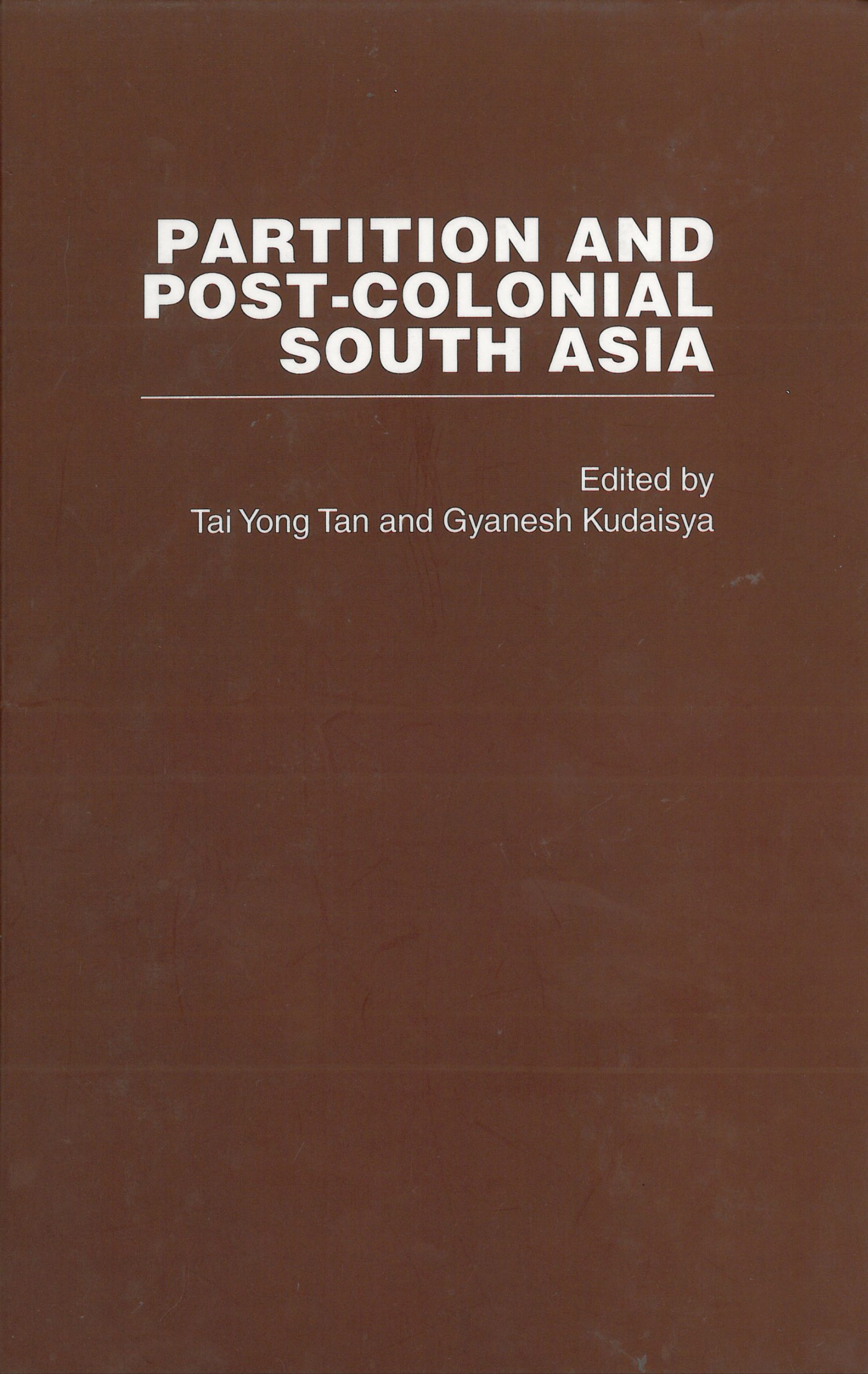 PARTITION AND POSTCOLONIAL SOUTH ASIA: A READER
Gyanesh Kudaisya and Tan Tai Yong (eds.), London: Routledge, 2008 (Volume 1: History Writing, Violence, Borders; Volume 2: Gender, Minorities, Migrants and Volume 3: Identities, Geopolitics, Reconciliation)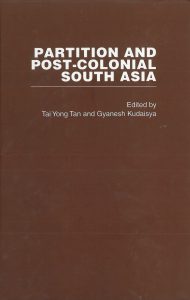 Scholarly literature on the Partition of the Indian Subcontinent and post-colonial South Asia has grown enormously, with contributions to its corpus by historians, geographers, political scientists, international relations experts, anthropologists and scholars of gender, literature and cultural studies. Many of these works have taken the Partition of 1947 and its effects upon South Asia as their critical point of departure. They have opened up a range of academic concerns relating to themes such as borders and boundaries, refugee-hood and displacement, majorities and minorities, citizenship, diaspora and the construction of post-colonial identities. Partition and Post-Colonial South Asia makes available within a single work these critical texts. Crossing boundaries, it encourages a dialogue across disciplines. Moving away from single-country focus, it offers a much needed comparative dimension to Partition and Post Colonial Studies.
Partition and Post-Colonial South Asia is divided into three thematic volumes:
1. Volume 1: History Writing, Violence, Borders
2. Volume 2: Gender, Minorities, Migrants
3. Volume 3: Identities, Geopolitics, Reconciliation.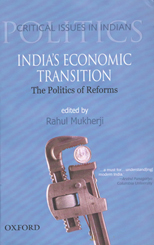 INDIA'S ECONOMIC TRANSITION: THE POLITICS OF REFORMS, CRITICAL ISSUES IN INDIAN POLITICS
Rahul Mukherji, New Delhi: Oxford University Press, 2007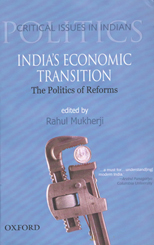 Rahul Mukherji, New Delhi: Oxford University Press, 2007
This reader, the third in the Critical Issues in Indian Politics series, discusses the politics and economics behind liberalization, and the impact of reforms on the political economy of India. In a crisp yet comprehensive introduction, the editor analyses state-market relations in India from 1947 to the late 1980s, placing the reforms in context.
One of the first of its kind on the political economy of reforms, this book addresses such questions as: Why did policy change occur? How was the political economy overturned? How was Indian private capital allowed to play a significant role in development in a democratic polity? What were the consequences? What was the nature of reforms after 1991? And how were the structural changes sustained?
Key contributions from Ashutosh Varshney, Jagdish Bhagwati, Montek Singh Ahluwalia, Lloyd and Susanne Rudolph, Baldev Raj Nayar, Prabhat Patnaik, and Rob Jenkins among others, focus on significant features of the post-reform era: the new politics of regulations governing markets in areas like telecommunications, power and the stock market, industrial lobbying, trade unionism and its failure to incorporate the unorganised sector, and the curious mix of costs and benefits from the rise of the IT sector.
The contributors also caution the globalising state against social disruption, and advocate an inclusive political economy of development. They highlight how society and politics are as important as economics to get around bottlenecks in growth and redistribution.
This collection of new and updated essays will be of value to students and scholars of Indian politics and economics, administrators and policy-makers.
REGION, NATION, "HEARTLAND" - UTTAR PRADESH IN INDIA'S BODY-POLITIC
Gyanesh Kudaisya, India: Sage Publications, 2006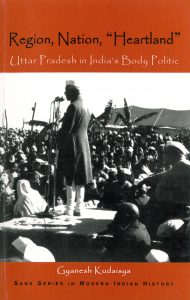 This book interrogates Uttar Pradesh's identity as India's "heartland" and unravels the historical processes that have shaped this region. In looking at this constructed identity of the state it argues that UP's existence as a "region" cannot be taken uncritically as a given, considering the complex and divergent traditions that have been constituent of the state. It makes the case that UP has been imagined in multiple ways and explores five such distinct, though overlapping, constructions through its modern history: UP as a "colonial heartland", as a "nationalist heartland", as a "Hindu heartland", as a "Muslim heartland", and finally as a "postcolonial heartland". The book closely examines UP's transformation from a colonial to a postcolonial society, looking at issues of identities, mobilization and governance.
With its size, location and demography, UP has occupied a distinct position within India's body politic. In the last two decades, the state has seen dramatic political change, marked by fragmentation along lines of religion, region, class and caste. Region, Nation, "Heartland" offers insights into factors that lie behind this social and political churning, which promises to transform not just UP, but India itself. The book offers a fresh perspective into the dynamics of how "regions" have contributed to the projects of state and nation-building in South Asia.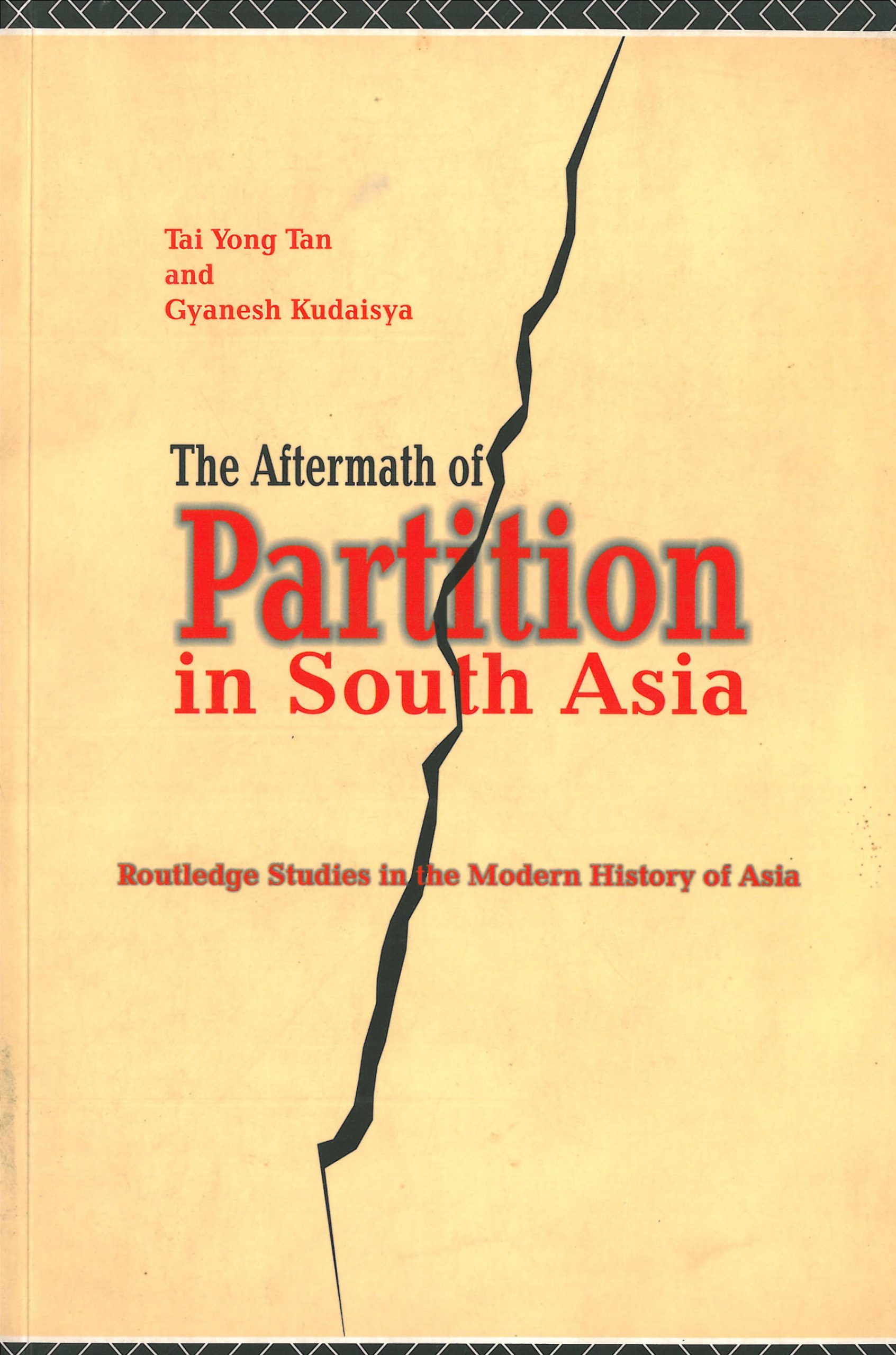 THE AFTERMATH OF PARTITION IN SOUTH ASIA
Gyanesh Kudaisya and Tan Tai Yong (eds.), Routledge, 2002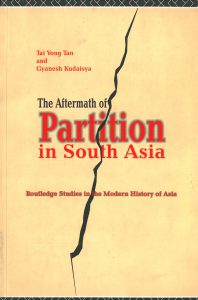 This book draws upon new theoretical insights and fresh bodies of data to historically reappraise partition in the light of its long aftermath. It uses a comparative approach by viewing South Asia in its totality, rather than looking at it in narrow 'national' terms. As the first book to focus on the aftermath of partition, it fills a distinctive niche in the study of contemporary South Asia.
THE PALM OIL CONTROVERSY IN SOUTHEAST ASIA: A TRANSNATIONAL PERSPECTIVE
Oliver Pye and Jayati Bhattacharya, ISEAS, 2013
"This engaged and vital edited volume brings together the varied viewpoints of academics, consultants and activists all concerned with the astonishing expansion of palm oil as a globally traded commodity. It reveals how this complex, contested and controversial expression of globalization transcends narrow national and sectoral interests, stimulating a transnational exchange of goods, capital and labour, as well as laws, norms, values and even understanding. Compelling, readable and insightful, the study shows that corporate responses to civil societys concerns about palm oils role in global warming, human rights abuses, land grabbing and biodiversity loss, now need to be complemented by legal, regulatory and governance reforms to be effective."
—Marcus Colchester, Director, Forest Peoples Programme
This publication received Reading Committee Accolades Humanities (edited volume accolade), ICAS Book Prize, 2015
THE BENGAL DIASPORA: RETHINKING MUSLIM MIGRATION
Claire Alexander, Joya Chatterji, Annu Jalais, Routledge, New York/London, 2016
India's partition in 1947 and the creation of Bangladesh in 1971 saw the displacement and resettling of millions of Muslims and Hindus, resulting in profound transformations across the region. A third of the region's population sought shelter across new borders, almost all of them resettling in the Bengal delta itself. A similar number were internally displaced, while others moved to the Middle East, North America and Europe.
Using a creative interdisciplinary approach combining historical, sociological and anthropological approaches to migration and diaspora this book explores the experiences of Bengali Muslim migrants through this period of upheaval and transformation. It draws on over 200 interviews conducted in Britain, India, and Bangladesh, tracing migration and settlement within, and from, the Bengal delta region in the period after 1947. Focussing on migration and diaspora 'from below', it teases out fascinating 'hidden' migrant stories, including those of women, refugees, and displaced people. It reveals surprising similarities, and important differences, in the experience of Muslim migrants in widely different contexts and places, whether in the towns and hamlets of Bengal delta, or in the cities of Britain. Counter-posing accounts of the structures that frame migration with the textures of how migrants shape their own movement, it examines what it means to make new homes in a context of diaspora. The book is also unique in its focus on the experiences of those who stayed behind, and in its analysis of ruptures in the migration process. Importantly, the book seeks to challenge crude attitudes to 'Muslim' migrants, which assume their cultural and religious homogeneity, and to humanize contemporary discourses around global migration.
This ground-breaking new research offers an essential contribution to the field of South Asian Studies, Diaspora Studies, and Society and Culture Studies.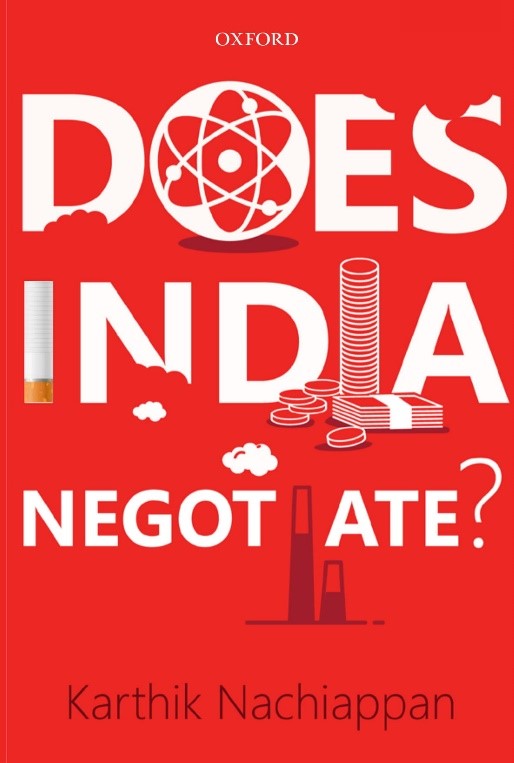 DOES INDIA NEGOTIATE?
Karthik Nachiappan, Oxford University Press, 2020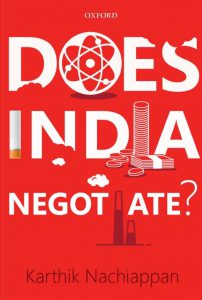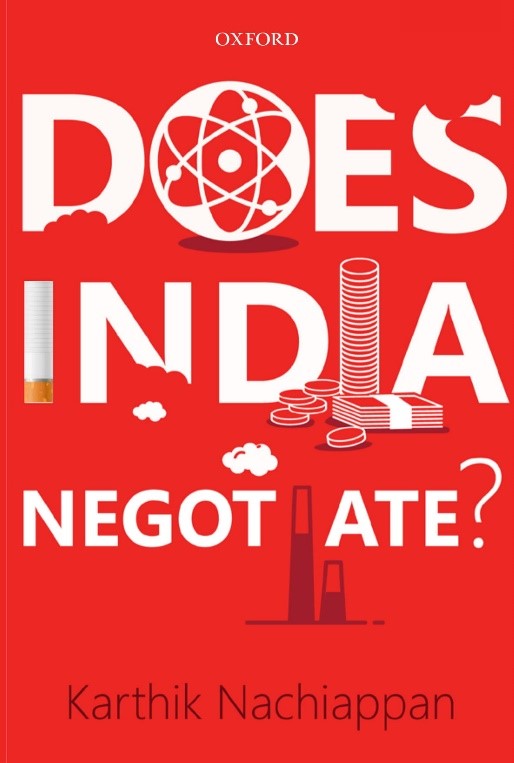 What explains how India negotiates international rules and why it signs certain rules but not others? Dr Karthik Nachiappan argues that political economy factors – convergence between institutions and interest groups is a key determinant that explains India's negotiating strategy at multilateral negotiations and the decision to ratify a particular rule or not. The book claims that when institutional capacity on the issue being negotiated is robust and interest group advocacy is cohesive, India will more likely seek to shape a rule and ratify it thereafter. Does India Negotiate? transcends existing works on India's multilateral behaviour that generally paints India as an obstructionist and naysayer while negotiating international rules. The book investigates how India negotiates four specific agreements – Framework Convention on Tobacco Control (FCTC), Framework Convention on Climate Change (FCCC), Comprehensive Test Ban Treaty (CTBT) and GATT's Uruguay Round Trade Agreement. It draws on extensive archival materials on how each of these negotiations transpired, including official memos from the Indian delegation, multiple interviews with various Indian negotiators and officials linked to these negotiations plus official budgetary and ministerial documents from the Government of India. The book generates new perspectives regarding the motivations driving how rising powers like India behave in the international order, how interdependence influences their institutional response to various international rules and how willing they are to cooperate on issues that affect their rise.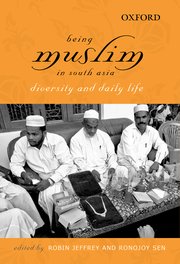 Being Muslim in South Asia: Diversity and Daily Life
Ronojoy Sen & Robin Jeffrey, Oxford University Press, 2014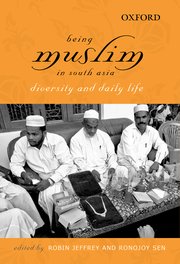 This book contributes to the rich recent scholarship on contemporary Islam in South Asia. It provides insights into the controversies of the past 150 years over how South Asian Muslims ought to respond to the challenges of modernity and Western imperialism. Though such contests of ideas began with a few intellectuals, their consequences flowed through to touch the lives of ordinary people. The book also traces the processes, in train since British times, that have created large social categories out of diverse, dispersed communities. In the past, such communities shared only a common devotion, a sacred book and the duties the book enshrined. This volume highlights the diversity of peoples and practices among South Asians who follow Islam. Readers learn about aspects of those practices in the resolution of disputes, the education of children, the marriage of offspring and the recreations of leisure time. The book does not underplay the violence, oppression and uncertainty that Muslims of South Asia too often face in recent times. The essays of Irfan Ahmad and Khaled Ahmed focus on these sombre aspects. Overall, the book invites readers to contemplate the diverse daily lives of the more than 500 million people who are Muslims in South Asia.
Articles of Faith: Religion, Secularism, and the Indian Supreme Court
Ronojoy Sen, Oxford University Press, 2018
This book examines the relationship of religion and the Indian state and seeks to answer the question: 'How has the higher judiciary in Independent India interpreted the right to freedom of religion and in turn influenced the discourse on secularism and nationhood?' The author examines the tension between judgments that attempt to define the essence of religion and in many ways to 'rationalize' it, and a society where religion occupies a prominent space. He places the judicial discourse within the wider political and philosophical context of Indian secularism. The author also focuses on judgments related to Article 44, under the Directive Principles of State Policy, which places a duty on the state to 'secure' a uniform civil code for the nation. His contention is that the Indian Supreme Court has actively aimed at reform and rationalization of obscurantist religious views and institutions and has, as a result, contributed to a 'homogenization of religion' and also the nation, that it has not shown adequate sensitivity to the pluralism of Indian polity and the rights of minorities.
The new edition has an expanded and revised introduction, which reviews the new literature on secularism and jurisprudence on religion, both in India and other secular democracies. It also has a new afterword, which examines a few of the recent landmark judgments by the Indian Supreme Court on religion.
Media at Work in China and India: Discovering and Dissecting
Anyone who visits India or China will puzzle over their vast media systems. Though they exercise immense influence, the world knows very little about the media landscape in the two countries. The world's two most populous countries, comprising close to 40 per cent of the global population, have disputed boundaries and the legacy of the 1962 war. Mass media in both countries plays a pivotal role in domestic politics and is capable of telling provocative nationalist stories.
This book helps readers to understand the complexities of media in India and China, and their similarities and differences. It introduces the two media systems, the people who work in them, the work they produce and the pressures that influence their work. It analyses how economic forces drive media, how newsrooms work and how governments in each country manage the coverage of disasters. Media at Work in China and India fosters greater reflection, curiosity and, perhaps, even wisdom, about fast-changing media in these 21st century powerhouses.