FASS Alumna Georgette Tan Receives Lifetime Accolade at SABRE Awards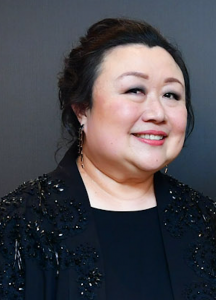 On 24 September 2020, Georgette Tan (Arts and Social Sciences, '82), was conferred a lifetime accolade at the virtual Asia-Pacific Superior Achievement in Branding, Reputation & Engagement (SABRE) Awards.
Tan was previously Senior Vice President of Communications at Mastercard, where she managed external and internal communications across the Asia Pacific for over 18 years. She also led Mastercard's Corporate Social Responsibility (CSR) programmes which focused on education and development programs for children and female empowerment across the region.
"Obviously you go into your careers and do what you do, not because you think you're going to win an award at the end," said Tan on receiving the Individual Achievement SABRE Award.
"The role, the job, the satisfaction of a job well done, and the impact you have on the lives of people and your organisation, that's your reward."
While she was humbled by the recognition, Tan maintained that communications is not an individual role as she also paid tribute to all the people she has worked with throughout her professional journey.
Supporting community involvement
An advocate of giving and volunteering, Tan said it is never too early or too late to start, urging students, young graduates and mid-career professionals alike to actively seek opportunities for community involvement.
At present, Tan is the President of United Women Singapore (UWS), a women's organisation with a primary mission of advancing gender equality, female empowerment and building the pipeline of future women leaders through education, economic empowerment and advocacy.
Tan also sits on the board of the Singapore Council of Women's Organisations (SCWO) and is chair of BoardAgender, an SCWO initiative focused on increasing the number of women in board positions. Additionally, she serves on the Taskforce on Family Violence which is co-chaired by the Ministry of Social and Family Development and the Ministry of Home Affairs.
Tan, who graduated from FASS with a degree in English Language and Literature, made the switch to the non-profit sector after a decades-long career in the communications industry spanning public service and the corporate world, citing the evolving nature of the non-profit landscape as a driving factor.
"You need to have a commercial lens, understand how best to market yourself, how to use social media and understand the power of partnerships, because it is a crowded landscape and you cannot do it alone," she added.
"I felt I was ready to take all my skill sets and years of corporate training and channel that to the non-profit space."
Championing female empowerment and anti-violence
Currently as President of UWS, Tan is focusing her energies on accelerating female empowerment and anti-violence efforts through education and advocacy programmes.
According to Tan, more girls and young women should be encouraged to take up Science, Technology, Engineering and Mathematics (STEM) subjects in school and in their careers, so as to pave a way for gender equality in these fields.
"The idea is to level the playing field between the genders and eventually get more women into STEM roles which are male-dominated," Tan explained. "In that process, with more women in engineering, innovation, sciences and math, we would also see a narrowing, and ultimately eradication, of the gender pay gap that exists today."
UWS is in its seventh year of running Girls2Pioneers, an outreach programme in schools targeting girls primarily aged 10 to 16 and from disadvantaged backgrounds, encouraging them to pursue STEM in their higher education and careers.
Based on research that UWS had conducted this year, Tan said that a number of findings stood out: firstly, more girls than boys actually find STEM subjects easy; secondly, families tend to support boys more than girls in taking up STEM subjects; and lastly, it is critical for girls to have role models to look up to.
"So it's not a capability issue, it's a confidence issue," Tan stressed.
Despite the COVID-19 pandemic providing disruptions to the programme, UWS has been steadfast in moving some of its facets onto digital platforms.
According to the UWS website, over 28,000 girls have benefitted from the programme since its inception in 2014, where they undergo hands-on workshops and camps, as well as go on field trips to corporate offices where they get to interact with female professionals in science, technology and engineering fields.
By the end of the year, UWS plans to launch a mentorship programme where small groups of girls are matched to a mentor from these industries, so that they can gain first-hand insight and guidance and understand the role that these women play at work.
At the same time, UWS champions anti-violence, which has become more pertinent during the COVID-19 pandemic as more families are cooped up at home leading to a rise in domestic violence.
UWS has created GenSafe Workspaces, a programme that helps employers recognise the early signs that their staff or colleagues may be subjected to domestic violence at home, and know how to respond, or which agencies they can refer them to.
Besides working with victims of domestic violence and their immediate support network at work, Tan believes that it is crucial to educate young boys about anti-violence and healthy masculinity.
"The idea is to get (boys) early, to (help them) rethink what masculinity is, value the role women play in the household and society at large, and things like consent and respect. Breaking the cycle of domestic violence starts with the boys," Tan said.
Applying corporate skills for the community
Looking back on her time at the National University of Singapore, Tan admitted she has slight regrets for not taking up any leadership roles then, but said that she made many good friends and memories during her undergraduate days here.
Urging students to break out of their comfort zones, Tan shared her piece of advice: "Don't be afraid, don't hold yourself back, get involved, do diverse things. It's only when you try out new things that you realise what you're really good at or what your true passion point is."
With the changing outlook of the non-profit sector, Tan reiterated that there are many ways to get involved.
"A lot of people now go into skills-based volunteering and make use of their corporate abilities," she explained. "You can be a great web designer, marketeer, communications practitioner, auditor, HR person, or digital specialist. The non-profit sector needs all these corporate skill sets."